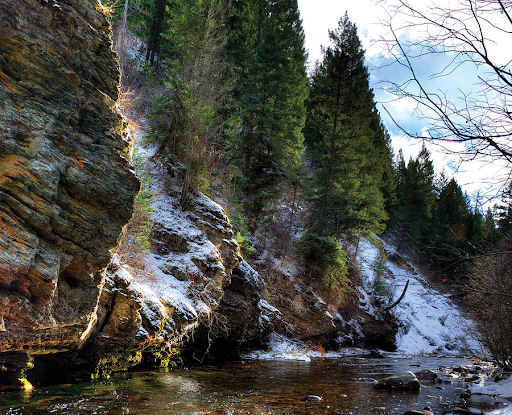 If you have ever been through Missoula, Montana, chances are you only caught a glimpse of what this quaint city nestled in the Bitterroot valley has to offer. What was once not more than a hub for the distribution of lumber products is now considered by some to be the cultural capital of Montana. For this reason, we here at UPTOP have compiled a list of our favorite activities and the gear you need to look good, get out, drink up and enjoy the moment in Missoula.
Exciting Sporting Events
Although you will not find any sort of professional sports teams in Missoula, Montana, there are still plenty of opportunities in this town to gear up, cheer on and enjoy the moment.
The University of Montana Grizzlies have been running the gridiron gambit and making a name for themselves since the 1990's. Their home is Washington-Grizzly Stadium, the largest multi-use stadium in Montana (Big-time musicians have also graced the stage in Washington-Grizzly — we're talkin' acts like Paul McCartney, Elton John and Pearl Jam).  With a seating capacity of just more than 25,000, you can hear the shouts of Griz fans and concert-goers alike from the "M" on top of Mount Sentinel, an adjacent mountain around 1,000 feet above the stadium. Next time you are in Missoula, check out a Griz game. The wildly enthusiastic fans and incredibly talented team create a seriously fun time. Grab your UPTOP Griz gear and watch these football players do what they do best.
Locally Crafted Libations
Missoula has been described as a drinking town with a fishing problem, and if you ever find yourself free on a Saturday evening, or heck, practically any night of the week; there is a place in town for you to get a locally crafted beverage and enjoy some good company.
Kettlehouse Brewery - Northside
The Kettlehouse Brewery-North Side Taproom is a hip and happenin' place where the local college students and up-and-coming young adults and families like to gather to enjoy conversation and quality, locally crafted beer.  With brews like Double Haul IPA, Cold Smoke Scotch Ale and Fresh Bongwater Pale Ale; Kettlehouse has adapted their products to the culture of Missoula. Visit the large taproom and bar with an adjoining porch, grab your trendy UPTOP Snapback and get to drinking and make some new friends!
Montgomery Distillery
If the Northside Kettlehouse isn't really your scene, but you still like to enjoy locally crafted beverages and a pleasant atmosphere; look no further than Montgomery Distillery located right in downtown Missoula. The feeling of the lounge at the distillery is quite modern with undertones of the wild west permeating through the old-style tables, large bar, and exposed wooden architecture. If you are planning a night out at Montgomery, wear something a little fancy! But remember, it is Missoula ... one of our UPTOP polos will keep you looking sharp without seeming too extra.
And That's Not All Folks
These are just a few activities that Missoula has to offer. Aside from the local brews and the die-hard sport fan base, Missoula provides countless opportunities for outdoor recreation. Surrounded by mountains, the Garden City is a splendid spot to take a hike and — in the winter — ski and snowboard; there are five different ski resorts within 2 hours of city limits. Missoula also acts as the intersection of three different rivers, perfect for both the dedicated fisherman and the laid-back floater. With over 30 million acres of public land in Montana, hunters can also find their stride in the Missoula area -- both big game and fowl hunting are popular.
So grab some friends, your favorite UPTOP gear, explore a little bit and get back to us.  We'd love to hear about how y'all enjoy the moment in Missoula!
Written by Kyle Adams
Photo Credits:
Montana Grizzlies Game: FlatheadBeacon.com
Northside Kettlehouse Taproom: Tarateatravels.com
Montgomery Distillery: ParadigmV2.com
Rattlesnake Creek: Dariusz Janczewski