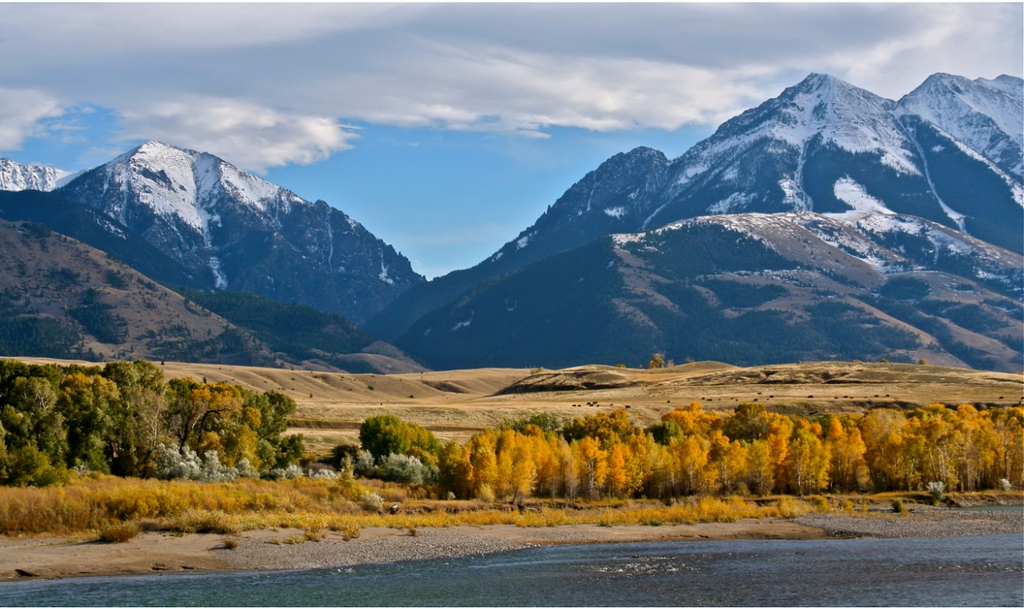 Fall months in Montana are a somber farewell to summer and a sheepish welcome to winter.  With bitterly cold mornings, warm and pleasant afternoons and cool, crisp evenings; autumn can be a time where we all just want to sit inside and binge the newest Netflix Original series.  Resist, my friends! While the weather can get us all feeling down during this time of transition, fear not: For there are plenty of fun and exciting activities to take part in. To pique your interest and hopefully provide y'all with some ideas; we here at UPTOP have assembled a short list of super-fun things to do during the Fall:
Get Spooked at a Haunted House
If you are sick of watching the same old scary, "cult-classic", repetitive and predictable scary movies showcased on TV and streaming services every Fall (we are); then get out and get spooked!  Folks from Sidney to Libby, Dillon to Billings and everywhere in between know of the horrors within the Missoula Haunted House.  In its sixth year of production, this large and complex haunted house is sure to make even the most brave of hearts palpitate and hands tremble.
Get Lost in a Corn Maze
I know, I know.  A corn maze, really?  Yes! Absolutely, really.  For those of you who haven't been in a corn maze before, it's actually pretty fun; and for those of you familiar with the Montana's agricultural practices, you know there are plenty of cornfields around here.  Get in touch with your inner-child and go get lost in a corn field. We have compiled a list of the best corn mazes around, ranging from fifteen minutes of child-like whimsy to forty-five minutes of full-on, chainsaw-induced adult anxiety:
Pick Some Apples
As the harvesting season comes to an end, picking apples at some of the beautiful you-pick orchards around Montana is a surefire way to enjoy an afternoon with those close to you.  We have found a few golden examples of orchards you and your friends can visit to remember the good ol' days when all you had to worry about was that 6th-grade book report on "A Brave New World".  Check out these amazing orchards around Western Montana:
Once you have picked your apples, then the fun really begins.  Make some apple pie, crisp, cobbler or spiced cider and share it with your favorite humans.  Don't forget: farmers are busy people, so make sure to call before you drive out to the orchard!
Have a Friendly Bonfire
By now, usually the fire restrictions have lifted; and just in time for bonfire season!  Fall evenings can get pretty chilly, so warm up with your friends and some of your favorite brews.  Grab some chairs, find some wood (even some old pallets will do), call your friends and get to burning.  Maybe even put on a pot of chili to share using that ground venison you still have in the freezer from last hunting season.  While you all warm your noses and toes-es around the fire, don't forget to talk about what you want to be for Halloween this year. 
Lastly ... Jump in a Pile of Leaves!
When the leaves begin to fall, the rake comes swiftly out of the shed to do its business.  While raking leaves may be a mundane and monotonous task, don't forget about the joyous and fulfilling light at the end of the tunnel: the satisfying crunch produced when a massive pile of leaves is squashed by a smiling person, rake in hand. (We don't actually suggest holding your rake, those tines are pretty pointy and could ruin your day.)  While the chores that come along with the Autumn season can sometimes be not more than annoyances, don't forget to enjoy the moment whenever you can...for winter is coming.
We here at UPTOP love to get out and enjoy the moment during the Fall season. With our fresh and fashionable collections of beanies, windbreakers and layer-building, stylish shirts; you too can see what autumn in Montana has to offer while staying warm, looking hot and avoiding that nasty flu that's going around.
Written by Kyle Adams
Photo Credits:
Yellowstone: Jean Modesette
2018 Montana Corn Maze "Montana Love" in Manhattan, MT: Montana Corn Maze
Apples: Rocky Creek Farm
Bonfire. Photo: Farmer's Almanac
Leaves: DNAInfo/Patti Welti