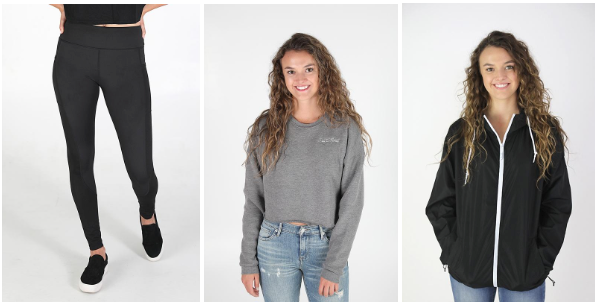 We all know how fall in Montana goes: you wake up with cold feet and an icy windshield, but then come home sweaty because you overdressed for the morning. It's a struggle, but we've got you covered (literally).

The key, of course, is to rep UPTOP each time you put a layer on and each time you peel one off. Here are some of our favorite looks for the season's confusing weather.
Now's the time we reluctantly trade in our high-waisted shorts for something a little more modest to avoid freezing on the walk to the car (which is short, but, let's be real, usually awful). The great news is that we can keep rocking the high-waisted look well into winter  — we just have to switch to full-length jeans or, even better, leggings.

We all love to hate on athleisure, but when you're cramming for your next test or late from leaving the gym, leggings are really the only option. They can be dressed up or dressed down — either way, the UPTOP HI-Rise Legging offer compressive, moisture-wicking fabric that keeps you both supported and dry. Plus, side pockets.

UPTOP STATEMENT CROPPED SWEATSHIRT

You really can't beat the crop top + high-waisted combo. This cropped sweatshirt is super soft and, with full-length sleeves and a fleece-lined interior, provides just the right amount of cozy comfort we're all looking for in the fall.

Check out our UPTOP UPTP SCRIPT CROP TEE for warmer days or an additional layer underneath. These tops pair great with your favorite flannel, too!

UPTOP WOMEN'S WINDBREAKER

This lightweight jacket may need a little help from other coats in the winter, but is absolutely perfect as a top layer for fall. It cuts out windchill so your core stays toasty and also resists water for the occasional snowfall toward the end of the season. Plus, the neutral color means it goes with anything — you can really get the most bang for your buck. Know a guy who would love a windbreaker, too? Our men's jackets offer the same features and colors … and we think the one in granite would be a great complement to the men's outfit we picked out below!

UPTOP GRIZZLY SUNSET BEANIE

If it's true that most heat escapes from your head, then a beanie to top off a perfect fall outfit is a must. We love the classic, recognizable "GRIZZLY SUNSET" design — and the white looks fresh, especially paired with the black-and-white windbreaker we picked out.

UPTOP CASE TRIBLEND TEE

Premium fit, cotton blend for comfort and durability… plus, this print is awesome — Montana artist Casey Konen really came through with some top-notch art. It's almost a crime having to cover it up with a sweatshirt…

UPTOP NARROWS SWEATSHIRT

… but this sweatshirt kinda rocks, too. Crewnecks are the best. Not only are they comfortable, but they also give off a more stylish vibe than classic hoodies. Plus, black and white matches everything, so it's a justifiable purchase through-and-through.

Keep in mind that we also have some sweet new hunting and fishing tees as the bottom layer or to wear on warmer days. Hunting season stretches well into November — but, if you wanna rep your fave pastimes even through winter, we definitely won't stop you.




MONTANA TIL I DIE UPTOP SNAPBACK HAT

Montana guys know that you can wear snapbacks all year long and survive, and this grayscale camo print truly ties the look together.


Wear these picks with khakis or dark-wash jeans, and you're ready to rock.

Stay Warm, Look Cool

Fall in Montana goes by quickly — and in a place where winter sneaks up and draws out through April, it's important that we wear our favorite fall outfits while we can.

Add these UPTOP looks to your closet this season — staying warm, but looking hotter.