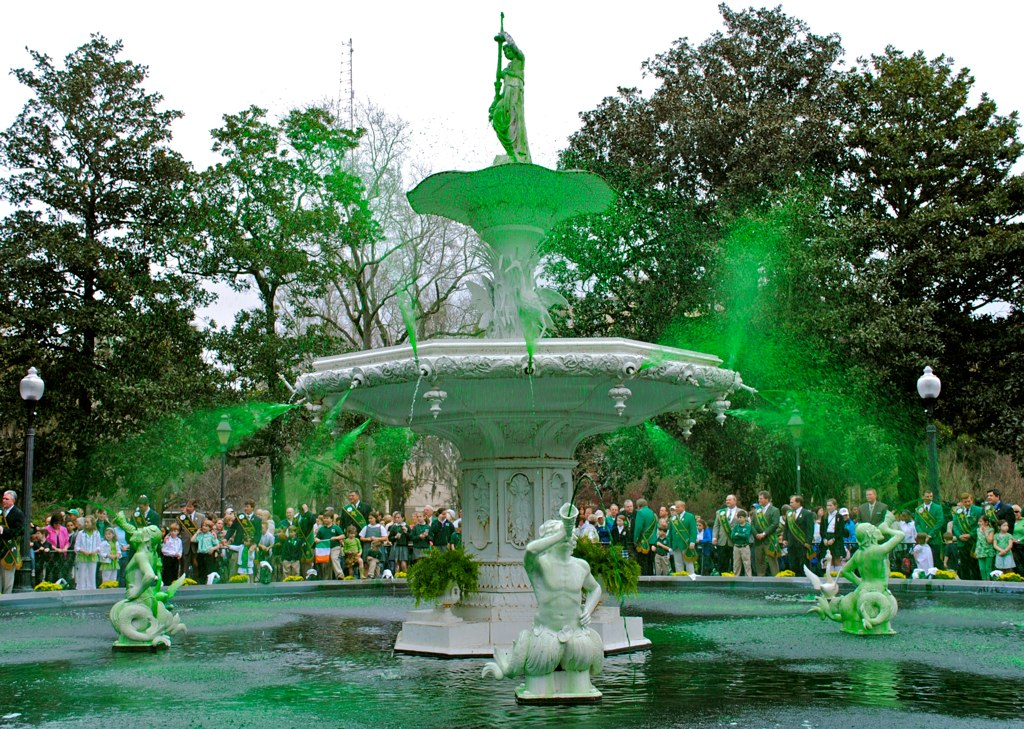 At UPTOP, you know we love St. Paddy's Day. It's Christmas in March, every year. The one time the entire country bonds together to celebrate, wear green, drink, and be merry. This year, we want to give a shout out to all the greatest St. Patrick's Day celebrations across the USA. Because enjoying the moment means bleeding red, white, and blue, and occasionally wearing green. 
Here is a definitive list of the top 10 US cities to celebrate St. Pat's Day in:
10. Chicago, Illinois
When the river runs green, you know it's time for a jig and a pint. The entire city of Chicago sells out for St. Patrick's Day: dyeing the Chicago River bright green, parading through downtown for three hours, and so many events that you may not make all of them if you return to Chicago every year to celebrate.
Why it's not ranked higher: Everyone knows about it.
9. St. Louis, Missouri
What better way to start a day-long celebration of beer and cheer than a five-mile run? St. Louis natives get out early on St. Patrick's Day to watch 8,000 people jog swiftly towards a finish line stocked with tapped kegs. Then, after a lovely parade through downtown, it's time to start hitting the collection of vibrant Irish Pubs scattered throughout St. Louis.
Why it's not ranked higher: Who starts a day of drinking with a run?
Cleveland has been showing off their Irish side on St. Patrick's Day since 1842. Every year, the city erupts with small concerts, food events, and a parade that's over 175 years old. Around every corner, you're sure to find a bit of Irish cheer.
Why it's not ranked higher: A parade with over 500,000 people packing the streets to watch? I'll just skip and head to the pub.
7. Philadelphia, Pennsylvania
Besides a great parade, plenty of awesome pubs, concerts, and food events, Philadelphia is home to the famous Erin Express St. Patrick's Day Pub Crawl. A tradition of over 30 years now, this FREE pub crawl features a fleet of busses, 10+ Philadelphia pubs, and thousands of friends to tip back a pint with.

Why it's not ranked higher: We all saw what happened after Philly won the Super Bowl. Think St. Patrick's Day will be any more peaceful?
6. Buffalo, New York
You can either join in the original Buffalo St. Patrick's Day Parade, or you can swing by Talty's Tavern in South Buffalo for the famed "spoof parade", a one-block parade ending at Talty's Tavern, where the crowd then starts enjoying some of the lowest prices in Buffalo.
Why it's not ranked higher: The temptation to eat buffalo wings while you drink all day is too much. Your stomach may not ever recover fully.
5. Davenport, Iowa
In years past, Kelly's St. Patrick's Day Party has been one of the largest events in the country, with over 20,000 people attending the two-day event. This year, the bar has been raised. Kelly's St. Patrick's Day Part seems primed to have its biggest year ever, and the Mississippi Valley Fairgrounds has announced their own two-day event, meaning the whole city will getting lit during St. Patty's Day weekend.

Why it's not ranked higher: It's easy to have a huge St. Pat's Day event when you have 3 other cities attached to you.
4. Pittsburgh, Pennsylvania
With over 10% of its population claiming Irish heritage, it's no surprise that Pittsburgh is known for having one of the largest St. Patrick's Day celebrations in the country. The parade alone sees almost 30,000 participants marching in the parade, and another 500,000 people joining to watch the precessional. After the parade is the Irish Fair in the Square, a huge family celebration that becomes much more adult-oriented after 2:00 pm. Open taverns, free concerts, and pub crawls dot the city, so any direction you go, the adventure can continue.
Why it's not ranked higher: At this point, it's because the top 3 cities are locked in. Pittsburgh, you have a lot to offer, but now, on to the most exciting cities in the country to celebrate St. Patrick's Day in.
3. Savannah, Georgia
It's not just St. Patrick's Day in Savannah, it's St. Patrick's Month. Starting with the greening of the fountain on March 9th, events starting coming non-stop until the two day St. Patrick's Day Festival and Parade. The festival runs from Friday the 16th to midnight on St. Patrick's day, stocked with a dance party, food court, giveaways, and music from local artists.
Why it's not ranked higher: A whole MONTH? My liver needs to rest...
2. Boston, Massachusetts
It's not all stumbling and brawls, though you can do plenty of both in Boston if you want. Boston also boasts some of the most prominent Irish history in the US. The Irish Film Festival, the Irish Heritage Trail, and one of the country's largest parades are just a fraction of the family friendly celebrations of Irish heritage that Boston has to offer. If that's not your style though, join some of the largest St. Patrick's Day pub crawls in America, or laugh until you cry with Sh*t-Faced Shakespeare, a recurring rendition of Shakespeare's most famous works while one member of the cast is completely hammered. And finally, kick back and enjoy a cruise around the Boston Harbor with the Pier Pressure St. Patrick's Day Cruise.
Why it's not ranked higher: Sorry Boston, but you're still not the most Irish city in America. That honor goes to….
1. Butte, Montana
You can call us biased, but if you haven't seen St. Patrick's Day in Butte then you have no idea. The small town of almost 35,000 people makes room for another 30,000, effectively doubling in size for the weekend. Butte boasts the highest percentage of Irish population of anywhere outside of the Emerald Isle. Butte's so Irish, Gaelic was the second most common language in the mines surrounding the city. The parade crosses basically the entire town, and nearly every single establishment has their doors open and pints flowing. Be warned though, festivities can turn rowdy quickly. If you visit Butte for St. Patrick's Day, get ready to have fun, amazing food, plenty of great, locally made beer and spirits, and brace yourself because you might end up in a donnybrook.
No matter where you're celebrating this St. Patrick's Day, make sure to enjoy the moment. Oh, and don't forget to wear green!