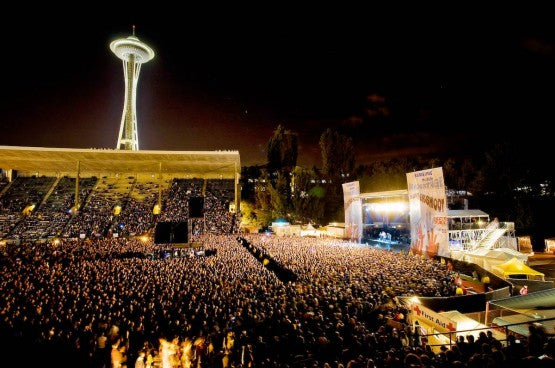 At UPTOP, we know how to have a good time, which is nothing new to the Pacific Northwest, home to the best music and folk festivals in the country. No matter what you're into — alternative, country, rock, even classical — these ten festivals are sure to make your Summer epic.
A multi-venue indie-rock music festival in the heart of downtown Boise, featuring hundreds of artists from across the globe. The festival has been described as "a music lover's joyous mayhem" but offers non-musical events for storytellers, film connoisseurs, tech-nerds and yoga enthusiasts alike. Now a festival that draws nearly 20,000 people, Treefort still manages to create a tight-knit, soulful vibe.
March 21-25
Boise, Idaho
Cost: 5-day pass from $175
Born out of the desire to make Portland the "Summer Capital" of the world, this festival lasts nearly six months with a calendar packed with multiple parades, fireworks, live music, treasure hunts, races and parties across all of greater Portland. It's world-renowned for a reason and more Portland than fedoras and handlebar mustaches. 2018's theme is Play Happy. Do with that what you will.
April 1 - Sept. 2
Portland, Oregon
Cost: Varied
Square Dancing. Beatboxing. Yodeling. For forty years, the Folklife Festival has celebrated the unique, diverse culture of the Pacific Northwest, becoming the nation's largest festival of its kind. Over 5,000 performers and 250,000 people flock to the Seattle Center for four days of folk. Not to mention, it's free.
May 25-28
Seattle, Washington
Cost: free (donations encouraged)
Sasquatch! 2016 Recap from Sasquatch Festival on Vimeo.
The famous, or perhaps infamous, festival is a rowdy, multi-day party held annually at the The Gorge Amphitheatre. With no urban areas close by, festival-goers set up camp for the weekend, creating a sense of community that can't be beat. The lineup is always impressive (the festival has been ranked in the top ten nationally) and 2018 is no exception, with appearances from Tyler the Creator, Modest Mouse, Bon Iver and Shakey Graves.
May 25-27
Quincy, Washington
Cost: Three day pass from $325
Have a desire to do something different? This week-long festival gathers the best fiddlers in the nation to compete for the number one spot and your entertainment. With the recent addition of swing fiddling and twin fiddling, watching a fiddle performance has never been more thrilling. Beyond fiddling, Weiser goes all out with a parade, battle of the bands and free, live music throughout the week.  
June 19-23
Cost: Tickets $6-10 (with free activities nearby)
For those who want to "get away from it all," Camp RAHH is a four-day, tech-free "camp for grownups." Attendees turn in their phones on day-one and spend their days kayaking, rock-climbing, horseback riding, paintballing, eating and, of course, dancing in the woods to live music (2018's lineup includes Naomi Wachira and Saint Claire). Drugs and alcohol are strictly forbidden, but facilitators say the "high" you get from being around like-minded people can't be beat.
Dates not yet available (probably in August)
Port Orchard, Washington
Cost: $550 (all inclusive)
Now dubbed "Project Pabst" this two-day, two-stage, waterfront music festival is open only to those 21+. It's a chaotic, energized party with an impressive lineup, including Iggy Pop, Beck, Spoon, Father John Misty among other big names.
August 26, 27
Portland, Oregon
Cost: $65-75/day
This world-renowned, award-winning art festival showcases the nation's best of dance, song, comedy, film, theatre, visual arts and more. Cheaper than Sasquatch, Bumbershoot usually captures a similar vibe with top-artists that lean into the pop/rock genre. This year's lineup has yet to be announced, but based on past years it'll have the perfect mix of local and big-name.
August 31- Sept. 2
Seattle, Washington
Cost: Three-day pass starting from $150
Sisters Folk Festival 2016 from Samuel Pyke on Vimeo. 
Oregon's folk music version of the Fringe Festival, the Sisters Folk Festival is a three-day event that takes control of the entire town and transforms it into one giant venue. With world-renowned folk artists attending every year, this  is one you can't miss in 2018.
Sept. 7-9
Sisters, Oregon
Cost: Weekend pass $150
Second to celebrating the annual folk-festival in Munich itself, Leavenworth, Washington embraces all things German, from overflowing pints of local beer to spicy meats to dancing in the streets in lederhosen and dirndls. Live entertainment is flown in from Germany every year (lineup announced in September), and the streets overflow with festival-goers that just want to have a good Bavarian time.
Oct. 5-6, Oct. 12-13, Oct. 19-20
Leavenworth, Washington
Cost: Fridays $10, Saturdays $20
Mark your calendars. 2018 is going to be awesome!