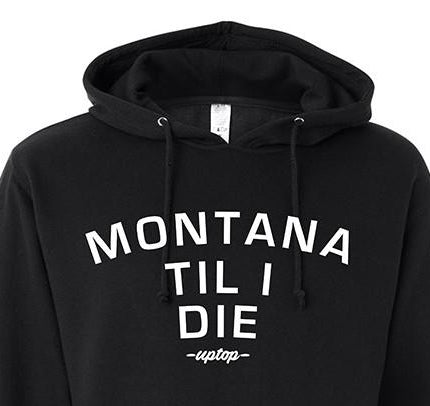 Whether they're freshmen sailing through their last semester or anywhere in between, high schoolers are notoriously hard to shop for. Featuring collections for the all major Montana colleges, and apparel ranging from beanies to socks to sweatshirts, UPTOP has your back.
Now you can resume googling what "lit" means and why your high schooler won't stop saying it.
The Montana Til I Die hoodie makes it clear how you feel about the treasure state: big-sky or bust. One of UPTOP's best sellers, the Montana til-I-Die tee shows off your devotion in style.
Perfect for: Montanas. Not Californians.
Cost: $48
Specs: 55/45 ring spun combed cotton/poly fleece. 6.5-ounce
While the weather gets cold, the bobcats get hot. Live up to the legacy that is bobcat passion with the UPTOP dynasty tee, a staple in every aspiring bobcat's closet.
Perfect for: those that bleed blue and gold.
Cost: $21.99
Specs: 50/25/25 polyester/combed ringspun cotton/rayon. Soft, comfortable and durable. 3.8oz. Color: navy Triblend.
This is for the die-hards, the born-to-be-griz fanatics who will proudly stand in the snow, sleet and sub-zero temperatures to watch their griz pummel the bobcats. This game-day jersey looks good in the stands or in the streets, celebrating the latest victory.
Perfect for: future griz, current Missoulians.
Cost: $44
Specs: Signature left chest logo and full upper back logo. 6.6 oz. 100% cotton jersey. Double tonal athletic stripes on sleeve. Roomy fit. Color: maroon.
Whether it's blazing hot day in July or blizzarding in December, it's a Bulldog tee kind of day. Show off that Montana Western spirit the Bulldog way with our UPTOP tri-blend tee. It's about to get western up in here.
Perfect for: Bulldog enthusiasts, aspiring athletes, future students
Cost: $29
Specs: Triblend material: 50/25/25 polyester/combed ringspun cotton/rayon. Soft, comfortable and durable. 3.8oz.
Show off your brains and your brawl with the UPTOP Montana Tech tee. Our softest tee yet, future Orediggers, a.k.a the future of the American economy, can wear their pride in comfort.
Perfect for: future engineers, computer nerds and football fanatics.
Cost: $29
Specs: Premium modern fit. 50/25/25 polyester/combed ringspun cotton/rayon. Comfortable and durable.
Tis the season for shirtless chest-painting in sub-zero temperatures, but that doesn't mean your head has to suffer. The UPTOP beanie is a staple for enjoying the colder moments of fall transitioning into winter. With styles in classic blue and cherry red, this stylish beanie is a hit under the christmas tree.
Perfect for: skiers, snowmobilers, cold-weather enthusiasts.
Cost: $20
Specs: Custom embroidered patch. 100% soft acrylic knit
Show off that Montana pride everywhere you go with UPTOP Montana Til I Die car decal, which gets more authentic the muddier it looks. Also available in a smaller size for water bottles or laptops, this must-have sticker is the perfect stocking stuffer.
Perfect for: everyone born and bred in the treasure state.
Cost: $4
Specs: Peel and stick. Size: 4"(h) x 5"(w). Color: white sticker with black logo
No matter the weather, it's never a bad day to go fishin'. This trendy trucker-style hat lets you "reel in the moments" even if it's below zero and the lake is (hopefully) frozen through.
Perfect for: fishermen, wanna-be fishermen and intimidating ice fishermen.
Cost: $27
Specs: Embroidered Patch. Logo loop on back. Flatbill. Adjustable snapback. One size fits most
You don't need a firecracker to proclaim your love for all things America. The UPTOP Flag is perfect for the college-bound patriot ready to proudly shout "U.S.A" from the rooftops.
Perfect for: true patriots, dorm-decorating connoisseurs, anyone who says 'merica.
Cost: $25
Specs: Material: 100% Polyester. Ready to hang. Finished with grommets. Measures approximately 3' x 5'. High quality stitching
When the weather gets frightful, leg days stay painful. Push through those workouts with the UPTOP water bottle. With its large mouth and secure screw top, it's made for easy filling with ice, water — even snow — and would be the perfect addition under any Christmas tree.
Perfect for: gym-rats, pool-rats, future exercise science majors.
Cost: $9
Specs: Size: 32 oz. Color: black bottle, white text.