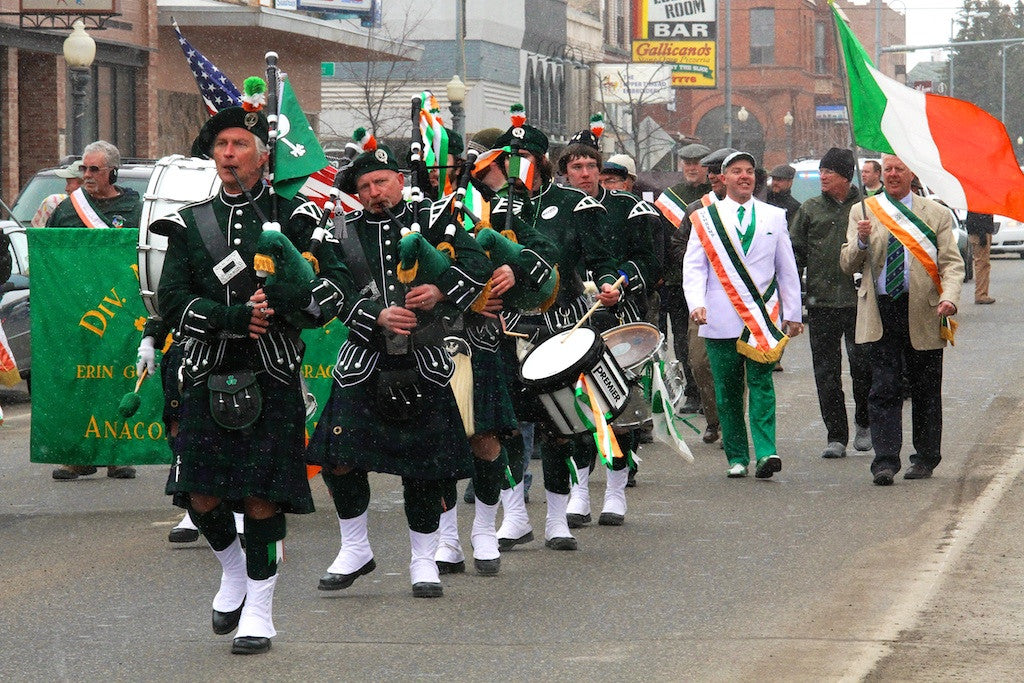 UPTOP clothing is designed in Montana. With the founding team hailing from Butte, Montana, St. Patrick's Day is means more than dressing up in kelly green and tossing back some food-colored beer. It's about heritage, great friends and one hell of a party.
Butte is consistently ranked in the top places to celebrate Saint Patrick's day in the nation. Standing toe-to-toe with places like Chicago and New York City, for one day out of the year, a holiday that's treated as a 20-something after-thought is religion in Butte.
Recognizing that the day means a lot to folks around the country, oh, and around the world, we put together a list of songs to help you enjoy the moment on your big (kelly green) day. 
Since not all of us are lucky enough to be Irish on St. Patrick's Day, here is a collection of some popular and iconic Irish tunes to help you get into the mindset and prepare you to fully enjoy your St. Patrick's Day.  While this list won't make you an expert, you'll definitely feel a little more at home at an Irish pub and may even hold your own during a sing-along!
A traditional, some would say quintessential, Irish jig that will probably seem familiar to many listeners.  
When to Play: Any time the festivities need some uplifting energy, "The Irish Washerwoman" is a perfect choice.
Hometown: The song has a long and interesting history, being attributed to several smaller villages in the 19th century.
 
This Flogging Molly classic is a great example of contemporary Irish music that will DEFINITELY be heard in Irish pubs around the world on St. Patrick's Day.
When to Play:  This tune will whip any crowd into a frenzy with its Celtic punk stylings.
Hometown:  Flogging Molly is from Los Angeles, CA but the lead singer, Dave King, is Irish all the way.
Favorite Lyric:  "But nothin' ever came, From a life that was a simple one, So pull yourself together girl, And have a little fun!"


The Pogues ft The Dubliners perform this lively Irish folk song that tells the story of a ship that takes a journey from Ireland to New York City.
When to Play:  When it's time for a sing-along, this is a fantastic go-to!
Favorite Lyric: "'Twas a wonderful craft, she was rigged fore-and-aft, And oh, how the wild winds drove her.  She'd got several blasts, she'd twenty-seven masts, And we called her the Irish Rover."
Hometown: The Pogues got their start in London, but this song is as Irish as it gets!
 
A tragic tale of a fictional girl who sold fish on the streets of Dublin, Ireland.  This clip features Dublin-based band, The Dubliners.
When to Play:  When things get sentimental, Molly Malone is another sing-along song that is bound to bring the crowd together, especially during the repeating chorus of "A-live a-live O!"
Favorite Lyric: "In Dublin's fair city, where the girls are so pretty, I first set my eyes on sweet Molly Malone, As she wheeled her wheelbarrow through streets broad and narrow, Crying cockles and mussels alive a-live O!"
Hometown:
This lush ballad is a slice of Irish folk song perfection.  (Note:  it's pronounced Athen-RYE)
When to Play:  If there is time for a slow dance, or simple contemplation, The Fields of Athenry is a perfect choice.  This one tugs at the heart strings.
Favorite Lyric:  "By a lonely harbor wall, She watched the last star falling, As that prison ship sailed out against the sky, Sure she'll wait and hope and pray, For her love in Botany Bay, It's so lonely 'round the Fields of Athenry."
Hometown: This song was written and recorded in the 1970's in Ireland.


When it comes to contemporary Irish music, the Dropkick Murphy's are a force to be reckoned with.  This song, in particular, has become a rallying call for Irish pride in the USA after being featured in the film The Departed!
When to Play:  The song features a fantastic jig and a mighty growl, so this song is best played to get the people on their feet!
Favorite Lyric: "I'm a sailor peg, And I've lost my leg, I've climbed up the topsails, I've lost my leg. I'm shipping up to Boston, I'm shipping up to Boston, I'm shipping up to Boston. I'm shipping off to find my wooden leg."  (These are ALL the lyrics, by the way)
Hometown:  Quincy, Massachusetts is the hometown of the Murphy's.