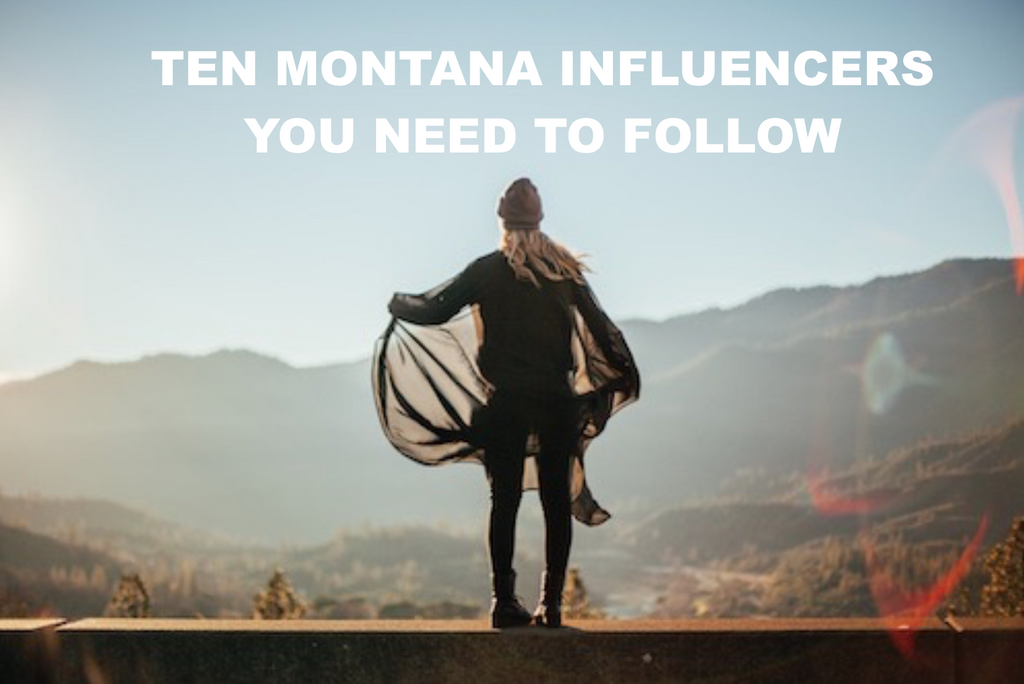 Tracy Moore
Snapshot:
Photographer, Adventurer, Free-spirit
Worth a follow:
Tracy's 
instagram account consists of a nice balance of beautiful photography and some hilarious snapshots of her everyday life as a mother.
She travels all over the country photographing weddings and was recently nominated for "Best Photographer" in Billings. Follow Tracy if you are a photographer looking for inspiration or a lover of children wanting to see some adorable baby photos.
Twitter:
@tracymoorephoto
Instagram:
tracymoorephoto
Gerald Alexander
Snapshot:
Coach, Former Pro Football Player, Father
Worth a follow:
Gerald Alexander was a 2nd Round Draft Pick for the NFL in 2007 and has played for five NFL teams including the New York Jets and Miami Dolphins. He currently resides in Bozeman, Montana, however, as the Defensive Backs Coach at MSU. We know Gerald's a big deal because he's even "verified" on twitter. Follow him if you're a Bobcat fan or even a football fan in general.
Hank Green
Snapshot:
Vlogger, Internet Guru, Musician
Worth a follow:
Hank Green has produced videos for YouTube, NASA, The Discovery Channel, & Nerdfighteria. He delivers a personalized experience for hisr two million subscribers on the YouTube channel he owns with his brother, John. He's also very generous and has used his platform to raise over a million dollars for charity. If you are passionate about entrepreneurship, video production, or vlogging, follow Hank. He's got his hands on so many projects, you're sure to find something that sparks your interest.
Tony Bynum
Snapshot:
Photographer, Conservationist, Traveler
Worth a follow:
Tony Bynum takes stunning photos of Montana wildlife. One scroll into his Instagram account you can see he has a gift. Not only that, but he actually lives 5000 feet above elevation in the Northern Rocky Mountains. If that doesn't show dedication I don't know what does. He has also traveled all over the world to take photos - places ranging from Switzerland to Africa. Check out Tony's page if you like hunting, landscape photography, or wildlife and conservation.
Serena Anderson
Snapshot:
Business Developer, Radio Host, Real Estate Marketer
Worth a follow:
Serena is a savvy business woman who has a speciality in everything you can think of. She's a full-time real estate agent, a co-host with Montana Home Hunters, business developer, owner of her own talk show, and a photographer! In other words, she does it all. According to her instagram page, Serena is also very into reading, writing, traveling, and meditating (although we're not sure where she gets the time). Follow her twitter page for news and comedy, her instagram for a snapshot of her life, and her Facebook for a viewing of her photography.
Facebook:
Serena Irene Photography
Emily Etchart
Snapshot:
Freelance Photographer, Model, Adventure-seeker
Worth a follow:
Emily is a recent graduate of the University of MT who spent the summer in New York City and recently moved back to Montana. Her pictures hold a nice balance between urban and rural photography and she switches from being in front and behind the camera lens. Along with her photography, Emily also has a blog where she interviews entrepreneurs and inspiring people, most of whom are based out of Montana. Follow Emily to see beautiful landscape and portrait photography on a daily basis.
Laura Munson
Snapshot:
Author, Speaker, Leader
Based out of:
Whitefish, Montana
Worth a follow:
Laura Munson is a New York Times best selling author who has been featured in GMA, The Huffington Post, Vanity Fair, and many other big media platforms. Being a best selling author doesn't keep Laura away, however. She frequently holds writing retreats in Montana
w
ith writing prompts and creative writing exercises made to help visitors discover their voice. Follow her if you are a writer, looking for inspiration, or wanting a sense of tranquility.
Gerry Scheetz
Snapshot:
Coach, Web Developer, Sports fan
Worth a follow:
Gerry is the current assistant soccer coach for the Carroll College Saints. He graduated from Montana Tech and has also been a software development analyst for over 20 years. He's won a state tournament three times with his team. Gerry's feed is a combination of tweets he finds funny, news about sports, and some cat pictures he's taken himself.
Erin Schattauer
Snapshot:
Marketer, Animal-lover, Motivational speaker
Worth a follow
: With a background in reporting, Erin is currently the digital managing editor for Townsquare Media in Bozeman. She has a lot going on outside of work, however. She's a lover of the outdoors, has two rescued pets, and spends a lot of time volunteering to causes she's passionate about. Erin is a public speaker for preventing violence, recently hosting a TEDx talk. Her twitter feed is sure to educate and inspire you.
Instagram:
erinschattauer
Casey Anderson
Snapshot:
Explorer, Filmmaker, Photographer
Based out of:
Paradise Valley
Worth a follow:
Casey takes incredible photos and videos that all have a similar look with a personal style. He's made it onto Oprah, Good Morning America, and the Discovery Channel for his work. He's a real adventure seeker and owns a film company called Vision Hawk, which focuses on Montana wildlife. He's searched worldwide for wildlife and has traveled all over, yet still prefers Montana to anywhere else. Casey is proof that you can make a living out of doing something you are insanely passionate about. Follow him to see some awesome pictures and videos that look like they came straight out of a National Geographic magazine.