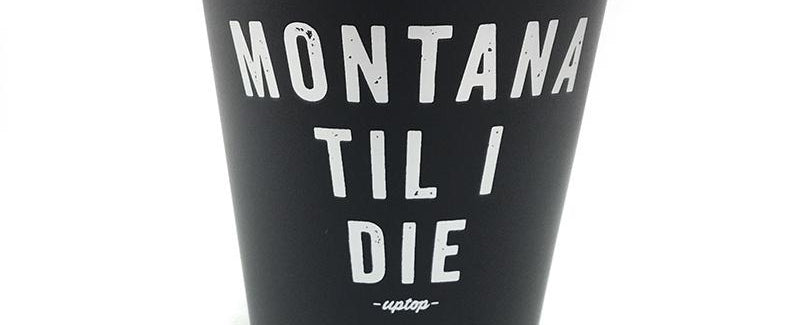 Perfect Gift For: Dad
Price: $24.00
Doesn't Dad deserve to look slick this holiday season? Grab him this UpTop Dad Hat and let him rep his favorite state with a hat from his favorite kid.
Perfect Gift For: Big Brother
Price: $20.00
From the tailgate to the after party, these glasses got you covered. Classically styled, and square framed, these sunglasses help you stand out and keep you protected from those nasty UV rays.
Perfect Gift For: Any College Student
Price: $15.00
Comfort meets cool in this USA inspired crew sock. With reinforced heels and toes and moisture wicking fabric, these socks are both functional and stylish.
Perfect Gift For: Montana Lovers
Price: $15.00
Why not grab a pint where the sky doesn't end? This double walled pint glass is great for hot and cold beverages, and comes with a lid for spill-proof sipping. There's nothing better than a frosty brew on gameday, like Steinbeck said: "With Montana, it is love."
Perfect Gift For: Your Favorite Float Squad
Price: $4.00
This koozie is great for two reasons, temperature regulation, and helping you avoid any gnarly spills. It folds flat for easy storage and works in any situation, from the camping chair to the inner-tube.
Perfect Gift For: The Gym Rat
Price: $9.00
Go ahead. Sweat it out. Because with this water bottle, you'll be able to rehydrate. No drip, and it comes with a wide mouth for easy water and ice filling. No need to pull any tabs or flip any tops. Just tip and squeeze.
Perfect Gift For: Bobcat Alums
Price: $21.99
Cat/Griz may be over, but your pride doesn't have to hide. Show your Bobcat colors with this comfortable polyester, cotton, and rayon blend tee shirt. You won't find a softer tee shirt. Or one that screams "GO CATS GO" any louder.
Perfect Gift For: The Ski Bum
Price: $20.00
Make a statement. Don't let the cold keep you inside this Winter. Get out there and enjoy the moment with this amazing beanie. Comfortable, warm, and a great look for anyone, this beanie is ready for any winter occasion.
Perfect Gift For: Freedom Lovers
Price: $4.00
Red. White. And Blue. Show your true colors with this awesome USA inspired bandana. Any season's a perfect time to rep America the Beautiful.
Perfect Gift For: The guy who lights the fireworks during the 4th of July.
Price: $24.00
Keep up the USA pride with this epic tank top. Premium fit with a navy color, you can show your allegiance any time of year. This tank top is so hot, Winter doesn't stand a chance. 100% cotton, and comfortable, it's to show your patriotic side and look great.
Perfect Gift For: Current Bobcats
Price: $23.99
Bobcat Pride never looked so good. This raglan tee comes with a relaxed fit and rounded bottom hem for both comfort and appeal. Show off your pride for MSU any time of the year and stand out with this classic look.
Perfect Gift For: Grizzlies Anywhere
Price: $24.00
Maybe maroon is more your color? Make a statement and make it loud with this awesome trucker hat. Foam front and adjustable for a comfortable fit, this trucker hat screams "First Down… MONTANA" louder than you do.
Perfect Gift For: Butte's Newest Fans
Price: $18.00
Now you can rep the Richest Hill on Earth at any age. This adorable onesie is built for style and comfort so that little tyke can buzz around with Butte pride.
Perfect Gift For: Anyone living on US Soil.
Price: $25.00
Okay, it's exactly $25, but few other items offer so much awesome for such a good price. Represent the Red, White, and Blue, with this USA inspired flag. 100% polyester and made with convenient grommets, it comes ready to hang.
Perfect Gift For: Anyone and Everyone.
Price: Starting at $20.00
It's hard to shop for everyone, but with gift cards starting at just $20, you can show you care and let them choose something perfect for them. Whoever its for, you can make sure they get out there and enjoy the moment.